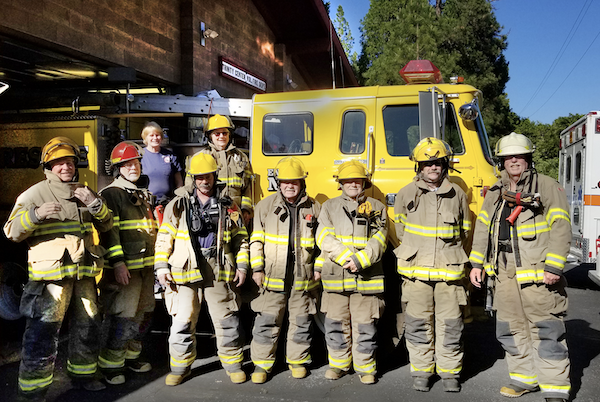 The Trinity Center Volunteer Fire Department members left to right: Whit Ashley, Mike McHugh, Martie Mullen, Keith Gagomiros, Carol Fall, Tom Dinsmore, Eddie Burch, Steve Noverr, Chief Bob Bryant. Not pictured: Ann Bryant, MaryAnn Bunce, Duke Kneaper.
(June 1, 2021) "This is so awesome!!  Thank you, thank you," said Chief Carol Fall.  "We responded to an escaped burn pile that threatened to move into the forest a few weeks ago and one of our new recruits was wearing hiking boots.  He got toasty toes as we were mopping up, so firefighting boots will be so much safer. This is wonderful news just in time for a worrisome fire season." Her department will be receiving $1,000 for three pairs of wildland boots for three new recruits. I'm happy to help the new recruits who made the choice, and sacrifice, to serve their fellow citizens.
(July 19, 2021) Here are photos of two of the department's new recruits, Mike and Paul, wearing their new boots. Chief Fall also sent a photo of the boots belonging to Mark, the other new recruit, who was unable to be in the photo. Thank you for the great photos!
"We've had the boots for less than a month and they're already worn in due to training and small wildland fires," said the chief. "Thanks for keeping our firefighters safe.  Jenny is OUR hero!" I say the real heroes are in this photo. – j.j.